Menstrual cramps are a problem that almost every women has experienced at some point in her life. Apart from the pain, there are the well known tag along symptoms of fatigue, anxiety, irritability, moodiness ,and yes... the list goes on and on. Often time women turn to pain killers and NSAIDs because instincts guide them to treat the cause of their malaise - the menstrual pain. Unfortunately, NSAIDs and prescription painkillers come with a number of side effects, which may not be felt or noticed for a prolong period of time, and those include an increased risk for a heart attack, internal bleeding, leaky gut syndrome, constipation, nausea, etc. If there is an alternative , and safe FDA approved treatment for pain caused by menstruation, wouldn't you try it?
How does it work?
Livia transmits a unique pulse that occupies the nerve signal, and you don't feel the pain. Works on women of any age who suffer from menstrual cramping. It is safe, and does not effect your fertility, It does not restrict your movement, and yes you can exercise with it. It feels like a "gentle vibration" Now that is a game changer!
Try Alivia for 120days risk free! DoctorAprooved
A new FDA approved device that treats menstrual cramping and pain without medications!

Frequently Asked Questions
Q: Is Livia FDA approved?
A: Yes
Q: Can Livia be used by women of all ages?
A: Yes, Livia fights the pain associated with menstruation regardless of the age of the patient.
Q: What does wearing Livia feel like?
A: Most women describe the sensation of a "gentle vibration"
---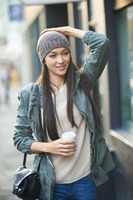 WOMEN'S CHOICE LABS
Do you ever wander if that genital discomfort is more than just a temporary vaginal change? Do you notice an unpleasant V odor you wish nobody but you has sensed? Questioning if you experienced an incident of a broken condom, or even forgot to use one?

Test at home for the 5 most common STDs ( Yeast, Trichomonas, Chlamydia, Ganorrhea, Bacterial Vaginosis) without the need for an urgent GYN visit. It will be the best 5 minute test you have ever done at home!
HPV
Human Papilloma Virus
HPV is a major risk factor for the development of Cervical Cancer worldwide. Women should do a preventative Cervical Cancer Screening every 3-5 years starting at age 30. More frequent screenings are required if you have significant family history of breast or cervical cancer. Many women are not aware of the fact that the Papilloma Virus Test can be done at home, without the need for a prescription, and the cost is less than 80 $.
If you haven't had a chance to test yourself due to time-restraints to visit a Physician, lack of Health Insurance or other obstacles, you are not the only one. Screening is one of the most important steps in the fight of this deadly disease. It is better to test late than never.